[su_note note_color="#333″]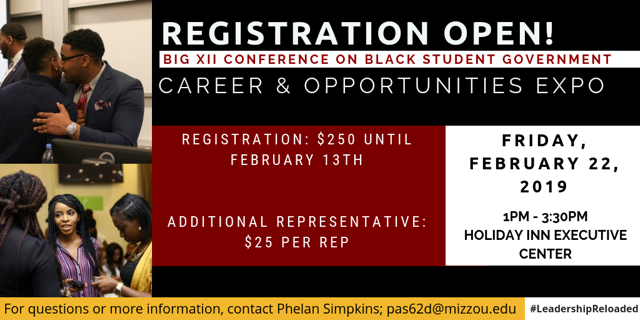 [/su_note]
[su_column size="1/1″]
The cost for a booth at our expo will be $250 for registrants. Registration will close February 13th at 11:59pm. There will be no onsite registration so please register at your earliest convenience.
To Register for the conference click here [su_button url="https://www.cvent.com/events/big-xii-conference-on-black-student-government/registration-ad4a6a098ed64b4595c7e99122bb0c7f.aspx?fqp=true" target="blank" background="#F0C30E" color="#333″ size="5″]Conference Registration[/su_button]
*Please note you will want to check "Career Fair Vendor", which is the last option under registration type.
We are offering limited slots for on-site interviews. If you would be interested please register as early as possible as slots will be given on a first come first serve basis.
Please feel free to bring any free swag that your organization normally would give away at recruiting events, i.e. stickers, water bottles, shirts, etc. are all allowed. 
On behalf of the entire Big XII Conference Planning Committee and the University of Missouri, we would like to thank you for your time and thoughtful consideration of participation. We look forward to hearing from you to further discuss the details of the conference and your participation. If you would like to take part in our expo, all checks and money orders must be made out to "Gaines/Oldham Black Culture Center" and mailed to:
Gaines/Oldham Black Culture Center
Big XII Conference
Attn: Velma A. Buckner
813 Virginia Avenue
Columbia, Missouri 65211
Please contact Phelan Simpkins with further inquiries at pas62d@mizzou.edu
[/su_column]